---
Perfect for connecting to fuel injectors, MAP and TPS sensors, as well as any weather pack seal type connectors. The modular design is compatible with any industry-standard, 4mm plug whether shrouded or not. All probes are supplied in a protective plastic tube.
4 colours | 0.7mm (0.028") OD back probe pins
Made in UK quality
SKU
ET9402
Barcode #
9321280376861
Brand
Silvertronic
Shipping weight

0.0310

kg
---
Others also bought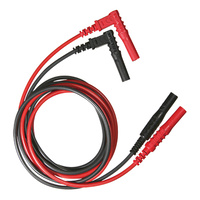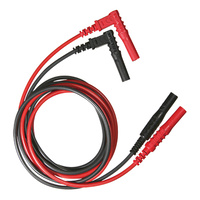 A pair of double insulated silicone test leads one end terminating in a straight fixed shrouded plug, the other in a right angled plug, both compatible with all standard 4mm instrument sockets.
1.2m length
Made in UK quality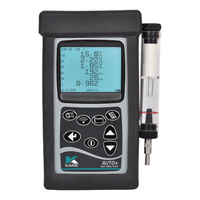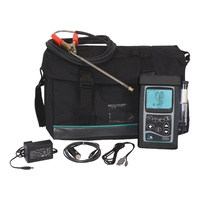 Gas analysers can accurately & quickly confirm or deny faults in the oxygen sensor and catalytic systems.
By hooking up each car that comes in, you can quickly identify whether engine issues exist - confirm via scan tool - and afterwards confirm that the engine service has been effective.
Kane gas analysers - Made in the UK - are market leaders. Compact, they can be taken to the vehicle, and used on drive tests to log engine data.
The 4 gas version is ideal for petrol engines. The 5 gas version adds NOx, to test diesel emissions (essential, especially for equipment used in underground mines / enclosed areas).
Optional printer (ET9890) for test reports available.
Fully portable 4 (CO | CO2 | HC | O2 & Lambda / AFR) & 5 gas (NOx) analysers .
Rechargeable battery
Fast warm up
Print to PC via wireless, plus Android App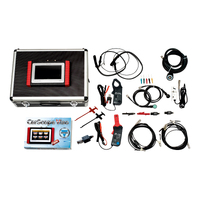 A unique two channel automotive testing scope in a standalone tablet. Designed specifically for automotive use, it has a range of guided tests (with extensive context sensitive help menus). Purpose built for component testing. Much easier to use / more auto functionality than standard oscilloscopes.
ADVANCED KIT
Tests most engine sensors
Tests actuators / solenoids
Advanced ignition measurement
Test batteries, alternators, starters
Test starter / charging circuits
Observe fuel injector / pump signals
View CAN bus signals
Measure high / low currents
2 channel - 2 x 20 MS/s ADCs
7" TFT Colour display
Rechargeable battery
PC connectivity via USB port
Save waveforms as BMPs
Guided tests with help menus
Includes first view sensor
Easier to use than most scopes
---
More from this category