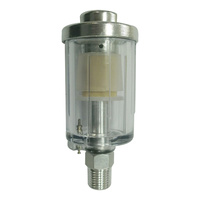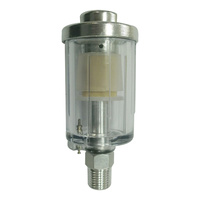 The Sonbeek inline water filter is designed for attaching direct to air tools, or else inline with the hose. It removes water, and dirt particles from the compressed air flow. A push valve allows easy drainage from the bowl.
Thread type: Male - Female
Thread size: 1/4" PT
Maximum working pressure: 150 PSI
Alloy body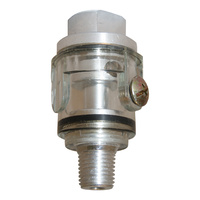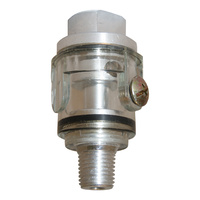 A mini inline oiler designed to be attached close to the air tool. For use with air tools which have a 1/4" BSP inlet size.
This mini oiler provides consistent lubrication to extend tool life and maximize performance. Lightweight aluminium construction for leak free operation. Clear reservoir for easy monitoring of oil levels. Thumb screw filler cap.
Thread type: Male - Female
Thread size: 1/4" BSP
Max working pressure: 150 PSI
Material: Aluminium / polycarbonate