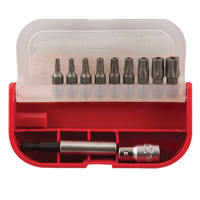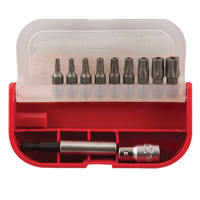 A specialised Torx Plus Tamperproof bit set. These are a five lobe bit, with hole. Torx Plus Tamperproof screws are used in a range of automotive / industrial applications. Commonly used on various control modules & sensors.
The kit includes a 60mm long bit holder, and a 1/4" Sq Drv adaptor. Packaged in a sturdy plastic storage case. Individual replacement bits available.
Sizes: TS-10H | TS-15H | TS-20H | TS-25H | TS-27H | TS-30H | TS-40H | TS-45H | TS-50H
Head style: Torx Plus Tamperproof (5 lobe)
1/4" hex drive
Includes 1/4" hex bit holder (60mm long) & 1/4" Sq Drv adaptor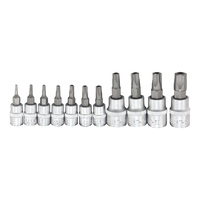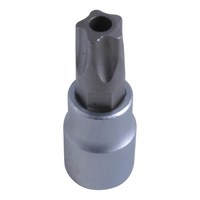 Torx Plus Tamperproof fasteners are widely used in automotive, and other industrial applications. These fasteners have a 5 lobe design, with pin. This set contains 11 common sizes in 1/4" Sq Drv and 3/8" Sq Drv. The bits are made from high quality S2 steel, and are supplied on a socket rail.
1/4" Sq Drv: TS-8H | TS-10H | TS-15H | TS-20H | TS-25H | TS-27H | TS-30H
3/8" Sq Drv: TS-40H | TS-45H | TS-50H | TS-55H