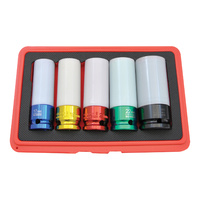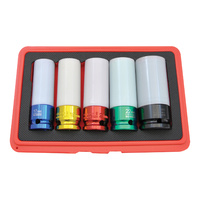 An essential set of five popular sizes of thin wall wheel nut sockets. Colour coded. Impact grade with nylon sleeve to protect against scratching alloy wheels.
17mm | 19mm | 21 mm | 22mm | 27mm
1/2" Sq Drv
88mm long
Thin wall with protective sleeve
Impact grade (chrome moly)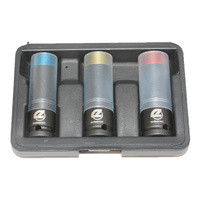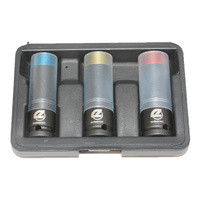 NEW DESIGN! The patented ring at the top of the sockets helps prevent breakage. As such, these sockets last up to 4 times longer than traditional thin wall wheel nut sockets. A plastic sleeve helps protects surfaces.
17 | 19 | 21mm diameter
Thin wall construction
Chrome Moly impact grade
1/2" Sq Drv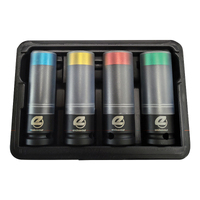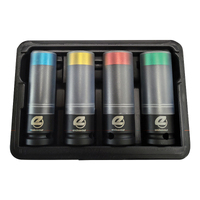 NEW DESIGN! Patented ring prevents breakage. Lasts up to 4 longer than traditional design. Plastic sleeve protects surfaces.
17 | 19 | 21 | 22mm diameter
Thin wall construction
Chrome Moly impact grade
1/2" Sq Drv