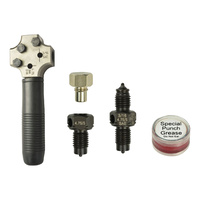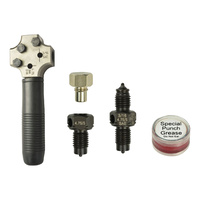 Compact hand held design for on-car brake flaring. Includes dies / punches for DIN single and SAE double flares.
Suitable for 4.75mm & 3/16" pipe diameter
For copper, copper nickel, steel brake pipes
Pipe stop plug for correct depth
Withstands pressure needed to double flare at 45¡ or ball form mild steel bundy tubing repeatedly. Will also produce a single flare.
Cam locking action on the six sided revolving collet head
Double flare setting bar gauges correct depth of tube to be double flared
Sizes: 3/16" | 1/4" | 5/16" | 3/8" | 1/2" | 5/8"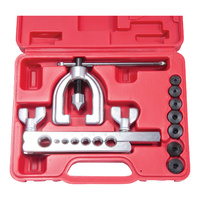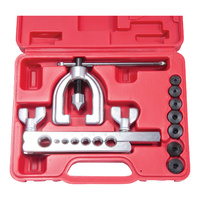 This imperial double flaring tool kit is designed for double or single flares on copper, brass, soft steel or aluminium tubing.
3/16", 1/4", 5/16", 3/8", 7/16", 1/2" & 5/8" OD