---
When you need a heavy duty solution! Charge power tool batteries, fridges etc
A massive 450Wh (121,000mAh) battery.
All ports come with enclosures to protect against dirt ingress.
Multiple charging options: solar, 240V AC, 12V DC
Output: 240V (500W pure sine wave inverter), 5V 2.4A USB, 12V DC 15A
Ultra portable: 5kg
| | |
| --- | --- |
| SKU | ET0946 |
| Barcode # | 9321280401624 |
| Brand | Endeavour |
---
Others also bought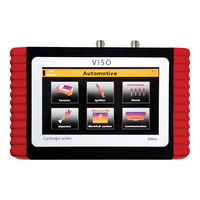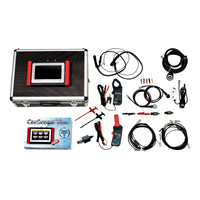 A unique two channel automotive testing scope in a standalone tablet. Designed specifically for automotive use, it has a range of guided tests (with extensive context sensitive help menus). Purpose built for component testing. Much easier to use / more auto functionality than standard oscilloscopes.
ADVANCED KIT
Tests most engine sensors
Tests actuators / solenoids
Advanced ignition measurement
Test batteries, alternators, starters
Test starter / charging circuits
Observe fuel injector / pump signals
View CAN bus signals
Measure high / low currents
2 channel - 2 x 20 MS/s ADCs
7" TFT Colour display
Rechargeable battery
PC connectivity via USB port
Save waveforms as BMPs
Guided tests with help menus
Includes first view sensor
Easier to use than most scopes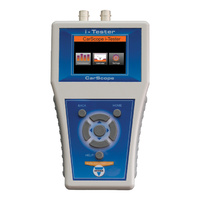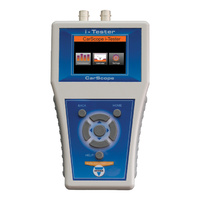 The CarScope i-Tester is essentially a specialised type of engine analyser. It is a complex, multi-function tool, which can help diagnosing the engine and finding engine problems. I-Tester can be used with both petrol and diesel-powered vehicles. Currently, its main mode is relative compression testing but several automated diagnostic tests are upcoming with future firmware updates!
No oscilloscope knowledge skills needed. You can skip the training and set-up time of an ordinary oscilloscope and get directly to a quick, precise engine analysis;
Relative compression test
This test is only a comparison between cylinders so we can use this method to "see" if we have a cylinder (s) with low compression by comparing one cylinder to the next. Hence the term "relative".
Relative compression is the fastest, simplest way to find a low compression cylinder. This test has previously been available only on large and expensive diagnostic systems, requiring a laptop and an oscilloscope. Now it is easier than ever Ñ with the new CarScope i-Tester that combines both functions - relative compression test and automatic waveform analysis. So, the final results are displayed in an easy to understand format.
You do not have to check each individual cylinder, all cylinders can be tested in one go. CarScope i-Tester works on 3, 4, 5, 6, 8, 10, 12-cylinder cars, 4 stroke, diesel and petrol engines, DIS, conventional and Coil-on-Plug systems, and 12V electrical systems.
Cylinder synchronization
By hooking up a second probe to either the ignition or an injector, you can follow the firing order/injection sequence and know which one it is. This is not the only way to do this type of cylinder identification but it does work as a way to start with.
Advantages
- Non-invasive test;
- Test completes within seconds;
- You do not need a pressure transducer to run the relative compression test;
- No mechanical work needed. No removal of spark plugs, glow plugs, or injectors, thus preventing accidental damage to the customer's engine components. All you have to do is to disable the fuel system to prevent the engine from starting;
- Disabling fuel system is always better because you are not flooding your cylinders;
- No oscilloscope needed;
- Reduced skill level required and thus achieve rapid testing;
- No waveform analysis skills needed;
- Test based on scientifically grounded theory;
- Test proven in the practice for many years;
- Useful tool in the parking lot type situation instead of dragging a scope/laptop around;
- No current clamp needed, in case the DC voltage method is used
Features
- 2.4" TFT LCD 320 240
- no external power adapter needed
- 3 Channel Ñ 3 measurement channels provide the ability to use a variety of voltage and current probes at the same time.
- Protection against reverse polarity connection
- The Relative Compression mode helps you quickly find a low compression cylinder
- Relative compression test function and automatic waveform analysis
- Ultra fast boot time
- Simple to use and connect, easy to use keyboard.
- Internal Micro SD card to save and review measurements
- Works on 4 stroke, diesel and gasoline engines;
- Works on 3, 4, 5, 6, 8, 10, 12-cylinder cars
- Works on DIS, conventional and Coil-on-Plug ignition systems;
- Only 12V electrical systems supported.
- Excellent industrial design
Applications
Reasons to perform a relative compression test using i-Tester:
Compression test has to be performed when the engine symptoms are as follows:
- engine misfiring;
- rough idle;
- loss of power over time;
- unexplained loss of power;
- smoke from the exhaust;
- puffing noise in induction or exhaust
2. Checking the engine health in cases as follows:
- In case of buying a used car;
- Before ECU remapping to evaluate engine status;
- Periodic prevention check;
- In cases where it is very hard to gain access to the spark plugs in order to perform a traditional compression test.
General Specifications
Functional on the following Engine Types:
Number of Cylinders 3, 4, 5, 6, 8, 10, 12
Engine Stroke 4 stroke
Fuel Types Gasoline, Diesel
Ignition Systems Conventional, DIS, Coil-on-Plug
Electrical System Voltage 12V
Power Supply 10V to 18V, 4 W typical
Relative Compression 0 to -100% contribution
Display
Type TFT LCD Module
Size 2.4" diagonal
Resolution 320 x 240 pixels
Backlight 4chip white LED in Parallel
High Brightness 150 cd/m2


---
More from this category