---
A front crankshaft radial seal replacement tool for the BMW Mini Cooper N14 engine.
The tool allows for a quick / precise installation without risking damage to the new seal.
Simply bolt the tool onto the crankshaft (where the vibration damper pulley attaches). Tighten the top part to push the seal into place. The shoulder on the tool ensures accurate placement of the seal.
| | |
| --- | --- |
| SKU | ET1674A |
| Barcode # | 9321280403598 |
| Brand | Automotive |
| Vehicle Make | BMW Mini |
---
Others also bought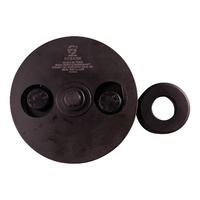 This tool is designed to assist with installing front oil seals / fan axle seals on Isuzu 35T trucks. As essential tool to avoide damaging oil seals when installing them.
Application: Isuzu 35T trucks (6WG1 | 6WA1)
Oil seal applications: BZ4837 G | BZ5016 E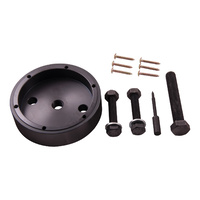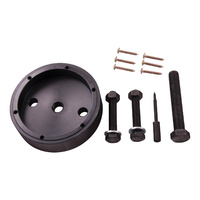 A specialised tool to remove / install the crankshaft rear oil seal on select V8 Jaguar / Land Rover engines.
Use the punch to remove the transfer case connecting sleeve seal. Use the punch and self tapping screw to allow fitment of 308-615. Use the punch and self tapping screw and pliers to remove the input shaft seal. Use the punch to make a hole in the countershaft seal to remove and fit the crankshaft rear oil seal.
Applications:Land Rover LS - Range Rover Sport / LM - New Range Rover / LF - Freelander 2 / LD - Defender 07MY / LA - Discovery 3 | Jaguar: X350 - XJ / X308 - V8 XJ series / X250 - XF / X200 - S-TYPE / X150 - XK / X100 - XK Series
Engines: V8 Petrol | 2.2L Duratorq TDCI Diesel
Transmissions: M66 EH50 6 Speed Getrag | MT82
OEM Equiv: 303-538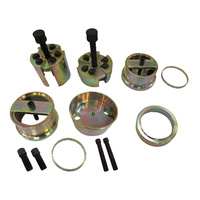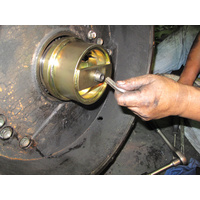 A time saving tool to quickly / safely replace crankshaft oil seals on Isuzu truck engines.
Engine codes: 4HF1, 4HG1, 6HH1, 6HK1
OEM seals: Front BZ4365E | Rear BZ4219E
---
More from this category